INSTRUCTORS Our staff of more than 30 includes many senior instructors with in-depth experience both as coaches and teachers. Each year we hire some new instructors with either junior or university level playing experience. We carefully choose our new instructors. They must show an appitude for teaching and have those character traits that will make good role models for young players.
TOM DUFFEY is the founder and principal instructor at Tom Duffey Hockey Schools. As a coach for more than thirty years at the highest competitive levels of Minor Hockey, Tom has witnessed significant changes both in the way the game is played and in the attitudes that players and their parents bring to it. Tom applies that accumulated knowledge to his School's programs. In Tom's view, hockey is more than lacing up your skates and stepping on the ice. He believes that hockey has both a tactical skill base that individual players must master, and a mesh of strategic situations that successful teams must understand.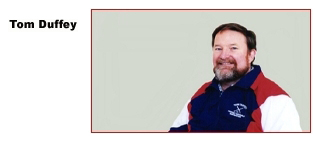 Since 1983, Tom has coached at the U15 (Bantam) AAA level. Since 1989, his Halifax Hawks has been one of the most competitive teams in Nova Scotia, reaching the provincial championships 10 out of the past 13 years. In 2001-2002 and 1999-2000, the Hawks won the Nova Scotia Provincial Championship and were Bronze medalists in the Atlantic Irving Cup. In the 1995 -1996 season, they won the Atlantic Irving Cup and were selected Nova Scotia Hockey Association's Team of the Year. In the same year the Association selected Tom its Coach of the Year. The continued improvement of Hawk's players is notable. More than 60 former Hawks are competing at higher levels and more than 40 have been drafted by or are playing in the Ontario and Quebec Major Junior Hockey Leagues. Many former Hawks have either turned professional or are playing at the competitive Canadian Interuniversity Athletic Union level and many have also contributed their expertise as instructors to Tom Duffey Hockey Schools.
Preparation for the next level is one of Tom's primary aims as a coach. Tom's hockey schools fully use this understanding of individual development. He tailors drills and practice sessions to fit each age level and he trains instructors to be aware of the different ways individuals develop and to keep a watchful eye for the correctable negative habits which young players can easily acquire.
Recently, Tom has started working with teams and associations during the regular season. Over the past seven years, he has worked extensively with TASA, East Hants and Liverpool minor hockey associations as well as numerous teams from various other associations.
In addition, Tom and his staff in recent years have done clinics for Innu communities in Labrador and over Christmas with the Mi'kmaq community of Membertou.
This work is an excellent opportunity for both Tom and the Tom Duffey Hockey Schools. It enhances his experience with all age groups from 5 year olds to U18 (Midget) AAA. Through intense involvement it will further his knowledge and help him better understand the challenges faced by each age group and skill level. The relationship is mutually beneficial. The work will help the Association raise its level of play and it will help Tom identify and develop new approaches to teaching that he will incorporate into future schools.
Tom also has extensive administrative experience in Minor Hockey. He has filled various executive positions at the Association level, including a term as President of Centennial Minor Hockey Association where he played an instrumental role in the founding of the Halifax Hawks Minor Hockey Association in 1989/1990. Since 1978, he has conducted several clinics for both players and coaches at the team and association level. For the 1996-1997 season, he was Director of Player Personnel for the Halifax MacDonald U18 (Midget) AAA team. From 1994 through 1999, Tom was the Atlantic Canada scout, first for Shawinigan Cataracts and later for Cape Breton Screaming Eagles of the QMJHL.